Blog
The Lake District
The Lake District - September 2015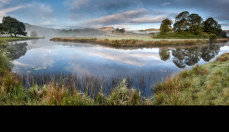 12th to 19th September 2015
My plans for a week of early morning photography shoots seemed to be falling apart when I viewed the coming week's weather forecast shortly before I set off in my car. A week of heavy rain and dark clouds were predicted to try my foul-weather photographic skills (I am not sure I actually possess these). However, the Met. Office was just as wrong as Michael Fish was in 1987 when he said there would "be no hurricane". The sun shone from the first to the last day.
I have visited Cumbria many times over the last 30+ years and have never tired of the diversity of the beautiful scenery to be found in such a comparatively small area. Years ago I visited mainly for the purpose of taking long fell walks and reaching new summits I had never visited. Nowadays I seem to decrepit of body to undertake such an arduous task. My motivation has now switched to carrying a heavy bag of camera gear around the lower level viewpoints and attempting to record the essence of the beauty to be seen in this county.
On this occasion my main trips were to:
Blea Tarn
The River Brathay at Elterwater
Side Pike in Great Langdale Valley
Alcock Tarn above Grasmere
Tom Gill waterfall below Tarn Hows
The western shore of Windermere about Wray Castle
These are just a few of the many 1000s of places I could have visited for excellent photo opportunities. So I shall not describe each place individually and how I photographed them, or I would end up writing a book. Suffice it to say that arriving at a location during the "golden hour" soon after sunrise or shortly before sunset will reap many rewards in terms of light quality and lack of crowds.
If you wish to see some of the images I have taken over the years then please check out the
landscape
section of my galleries.
One resource that I cannot commend highly enough as a guide to photographing this area of the UK is the book "Photographing The Lake District" by Stuart Holmes, published by Fotovue Outdoor Photography. The 318 pages of this book are a very comprehensive resume of everything you need to know about varying conditions, the seasons, techniques, transport and other practicalities. But most important of all, 230 pages are devoted to locations and the best viewpoints. Here is a link to the publisher's website to give you more information:
Photographing The Lake District...