Blog
Fireworks
Fireworks - 7 November 2015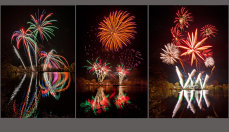 7th November 2015
I had not photographed a firework display since 2008 when I attended the Chinese new year celebrations in Hong Kong. This year the opportunity to further my knowledge of photographing pyrotechnic displays arose when a friend arranged with the local Round Table group to have a privileged position at the local Billericay firework display, separate from the other 19,000 spectators. We duly arrived in plenty of time for the 8pm start, donned our health and safety reflective jackets, and awaited the start of the display.
I researched firework photography before I arrived and learnt:
Use the widest-angle lens available. I used a 10-20mm lens on my Canon 40d
Shoot at f8 for 2 to 3 seconds. I used the Bulb setting with a remote release and just counted the seconds.
Shoot at ISO 100 on a manual setting. If you set the camera on auto it will try to render the night scene so that it appears as daytime. You are actually exposing for the bright streaks of light.
Try to anticipate the display by activating the shutter during a "dark" period when nothing appears to be happening. In this way you will, hopefully, catch the fireworks ascending into the air and then exploding in a torrent of colours.
Take as many images as possible with a view to selecting the best when you return home. I took 200 images and was happy with 12 of them.
It is possible to make up composite images by combining exposures, using the lighten blending mode in Photoshop. In this way it is possible to fill a dark area of sky with a firework explosion from another frame.
If possible shoot across a body of water in order to obtain reflections.
I hope to return to next year's display to further improve my technique.