Blog
Canals and Old Buildings
Bruges, Belgium - 23 to 26 February 2016
23rd to 26th February 2016
I booked a trip to Bruges, Belgium a few weeks ago in hope of the weather being kind to me and enabling me to take shots of the canals and ornate buildings that this Flemish town is famous for. I was lucky with the weather - it was cold but dry and even sunny on occasion.
My wife and I booked ourselves into Relais Bourgondische Cruyce Hotel on Wollestraat. This was a most comfortable hotel but I must admit that one reason for booking it, in my case, was the fact that it seems to appear in half of the shots you see of Bruges being reflected in the canal. I proceeded to take pictures across the canal in the morning and evening, using HDR, Lee filters and straightforward shots to ensure at least one image I would be happy with. My best shot was a non-HDr one using a graduated neutral density filter. Here it is:
We spent 3 days visiting various spots in Bruges and had a great time climbing the Belfry, visiting the Groeningmuseum, eating in various restaurants and walking numerous streets. I obtained some good images of buildings reflected in still waters but, to be honest, I always returned to the subject of our hotel and adjacent buildings. Hence my second shot shown here: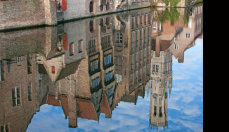 Our hotel is the double-gabled building.
I recommend Bruges as an excellent photographic and restaurant destination.