Locations
Kent
Kent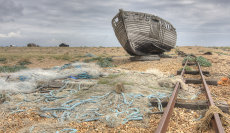 This county is easy for me to access, merely requiring a trip over the QE2 bridge. I am still discovering new places to visit but list below a few of those I have already seen.
___________________________________________________________________
Location: Dungeness Shingle Beach
Type: One of the largest shingle beaches in Europe
What to Shoot: Shingle, abandoned boats and fishing gear, the atomic power station, 2 lighthouses and birds at the nearby RSPB reserve
Comment: A fascinating place to visit as it is unlike any location found elsewhere in the U.K. The vast shingle beach is still growing as further stones are washed along the coast and caught by the Dungeness headland. There are numerous abandoned fishing boats, and their ruined fishing gear, scattered about the beach as well as strange looking residential properties - some made of old railway carriages. 2 lighthouses, an atomic power station and a welcome cafeteria complete the picture.
Website: I would provide you with a link to the Wikipedia article for the Dungeness Headland. But, however, much I try the link will not work. Therefore, I suggest you just use your browser and search "Wikipedia Dungeness"
___________________________________________________________________
Location: Cliffe Fort and The Hans Egede wreck
Type: Victorian fort and a wooden shipwreck beside an RSPB reserve
What to Shoot: The wreck of the Hans Egede, river views, the abandoned fort and mudflats
Comment: I have visited this area twice now, on both occasions to photograph the wreck. I parked at the car park in the Cliffe Pools RSPB car park and then had a walk of about a mile through the reserve, past mudflats and the Victorian fort until coming upon the wreck. If you are visiting it is a good idea to invest in an ordnance survey map of the area to pinpoint the location. It is also best to visit at a time when the tide is out to give you closer access to the wreck (beware of the deep mud). The Victorian fort is not accessible but can be seen from the path and is noteworthy for having a Brennan Torpedo station that was added in 1890, the rails of which are still visible at low water. This was used for launching early experimental torpedoes into the river.
____________________________________________________________